In the last 20 years, we have done the work which could not be done by the Rajas-Maharajas, nawabs and previous governments altogether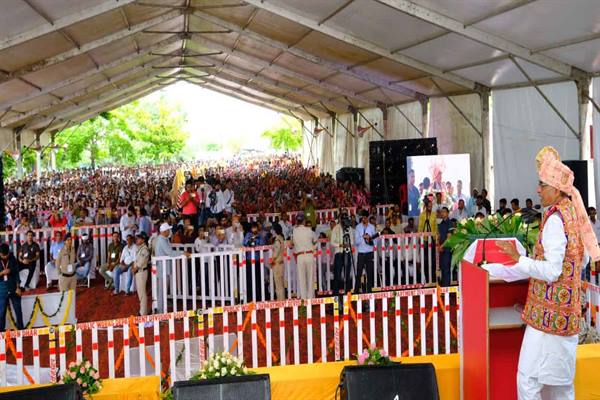 Chief
Minister Shri Shivraj Singh Chouhan said that our government has undertaken
development works much more than what was done in the rule of rajas, maharajas,
nawabs and the previous governments in the last 20 years. Chief Minister Shri
Chouhan was addressing the bhoomi pujan programme of Kukshi Micro Lift
Irrigation Project today. Chief Minister Shri Chouhan inaugurated the Vikas
Parv, which began in the state from today, with local farmer Shri Mohan Singh
Chouhan, his wife Smt. Rangili Bai and labourer Shri Parvat, with the
bhoomi-pujan of development works worth Rs 2771 crore 16 lakh. Vikas Parv will
continue till August 14, under which Jan Samwad, Hitgrahi sammelan, road-shows
etc. along with bhoomi pujan/dedication of development works on a large scale,
will be organized in all the districts of the state.
Chief
Minister Shri Chouhan said that in the last 20 years there have been remarkable
changes in the fields of roads, electricity, water, irrigation, education,
health etc. In Dhar district alone, a total of 835 roads of about 3 thousand 300
km length have been constructed and upgraded at a cost of more than Rs one
thousand 268 crores. 117 bridges have been constructed at a cost of Rs. 196
crore 62 lakh in the district. Rs 333 crore has been spent on construction and
strengthening of electrical infrastructure. 54 MW solar power plants are being
set up in the district at a cost of Rs 216 crore. 311 works of feeder separation
costing Rs 85 crore have been completed. Apart from this, irrigation potential
was developed in 29 thousand 790 hectare area through 78 irrigation projects
constructed at a cost of Rs 519 crore 26 lakh. Presently 22 irrigation projects
are under construction at a cost of Rs 905 crore 33 lakh. Under the Jal Jeevan
Mission, pure tap water has been made available to 2 lakh 63 thousand 783
families in the district so far. 15 CM Rise schools became functional in the
district. Eklavya Vidyalaya, Girls Education Complex, Ashram, Sports Complex and
hostels have been constructed at a cost of about Rs 237 crore. A medical college
will be set up in Dhar. A total of 529 health centers have been constructed and
upgraded at a cost of about Rs 71 crore. Ayushman cards have been made for about
11 lakh 40 thousand beneficiaries of the district. More than 15 thousand
patients have been treated free of cost under the Ayushman Yojana.
Referring
to other schemes including Ladli Bahna Yojana, Chief Minister Shri Chouhan said
that these are bringing positive changes in the lives of the people of the
state. We are moving ahead by imbibing Prime Minister Shri Modi's mantra of
'Sabka Saath, Sabka Vikas, Sabka Vishwas and Sabka Prayas'. Along
with this, the work of changing the lives of the people is also being done by
making public welfare, prosperity and development the pillars of governance. He
said that the difficult task of taking Narmada water to Kshipra river has been
done by the government.
Not
only this, there is a plan to transport Narmada water in Nimar, Malwa, areas
where it cannot be transported through canals by installing motor through pipes.
The Chief Minister said that the word impossible is not in my dictionary.
Irrigation and drinking water will be arranged in each and every village of Dhar
district.
Chief
Minister Shri Chouhan said that Bhoomi-pujan of Kukshi micro lift irrigation
project has been done at Meghnad Ghat today and lift irrigation project at Pati
and irrigation project at Nagalwadi are going to be dedicated. We will leave no
stone unturned for the betterment of the farmers. We have increased the
Mukhyamantri Kisan Samman Nidhi to Rs 6 thousand, which was earlier Rs 4
thousand. By combining this with the Pradhan Mantri Kisan Yojana, now farmers
will get Rs 12 thousand. Earlier farmers used to get loans at 16 percent
interest, which we have reduced to zero percent. Kanya Vivah Yojana, Sambal
Yojana, laptop distribution were stopped by the previous government, which we
have restarted. Now on July 20, laptops will be distributed to meritorious
students.
Chief
Minister Shri Chouhan said that the Kukshi Micro Lift Irrigation Project is
based on Prime Minister's "per drop more crop" (more crop per drop of
water). Making this mantra its resolve, the Madhya Pradesh government is making
every drop of water useful by innovating in the field of irrigation. Madhya
Pradesh is becoming proof of this commitment of the government. Micro lift
irrigation projects operated successfully in MP. The entire water distribution
system of Kukshi Micro Lift Irrigation Project is based on underground pipeline
and 23 meter pressurized water will be available to the farmer for every 2.5
hectare plot. With pressurized water, farmers will be able to take advantage of
sprinklers under micro irrigation and will get the benefit of more irrigation
with less water. On getting irrigation through this method, the farmer will not
need to level the field. Permanent land acquisition will not be done for pipe
canals. From the project, irrigation is proposed in 39 thousand 854 hectare area
of 96 villages of Kukshi tehsil, 35 thousand 149 hectare area of 79 villages of
Gandhwani tehsil, 7248 hectare area of 24 villages of Kukshi assembly
constituency and 67 thousand 752 hectare area of 151 villages of Gandhwani
assembly constituency area. He said that Meghnad Ghat would be developed and
cruise would operate from here to Sardar Sarovar.
Chief
Minister worshipped Narmada, offered chunri, sang bhajans
Before
Bhoomi-Pujan, Chief Minister Shri Chouhan offered prayers to Maa Narmada at
Meghnad Ghat and offered 551 meter chunri to Maa Narmada. Musical bhajans were
presented by Bhajan Mandali on the banks of Narmada. Chief Minister Shri Chouhan
sang his childhood favorite hymn "Ram Bhajan Sukhdayi – Japo Re Mere
Bhai".
Chief
Minister planted saplings
Chief
Minister Shri Shivraj Singh Chouhan planted a sapling of Parijat at Meghnad Ghat
in Chandankhedi village of Kukshi tehsil. Soil from 175 villages was brought
here for planting saplings. The Chief Minister had come to village Chandankhedi
of Nisarpur village of Kukshi tehsil on Sunday.
Industrial
Policy Investment and Promotion Minister Shri Rajvardhan Singh Dattigaon, Rajya
Sabha MP Shri Sumer Singh Solanki, MP Shri Chhatarsingh Darbar, MLA Smt. Neena
Verma, Former Cabinet Minister Smt. Ranjana Baghel, Sarvshri Manoj Somani, Mukam
Singh Kirade, Virendra Singh Baghel, Jaideep Patel, Divisional Commissioner Dr.
Pawan Kumar Sharma, IG Shri Rakesh Gupta, public representative and huge public
community were present.